Smart Farming combines the use of sensors and data analytics for monitoring your crops. This kit consists of a Seeed Soil Moisture & Temp Sensor and a SenseCap Helium Gateway; enough hardware to get your garden a little more sophisticated and intelligent.
SenseCAP Wireless Soil Moisture & Temperature Sensor (US915)
SenseCAP Wireless Soil Moisture & Temperature Sensor measures soil volumetric water content (VWC) and soil temperature at the range of 0 ~ 100% (m³/m³) and -30 ~ 70℃ respectively. With the high-quality soil moisture and temperature probe, this sensor features high precision and sensitivity regardless of soil variability, making it widely applicable in industrial IoT (IIoT) scenarios such as water-saving irrigation, outdoor fields, greenhouses, and more.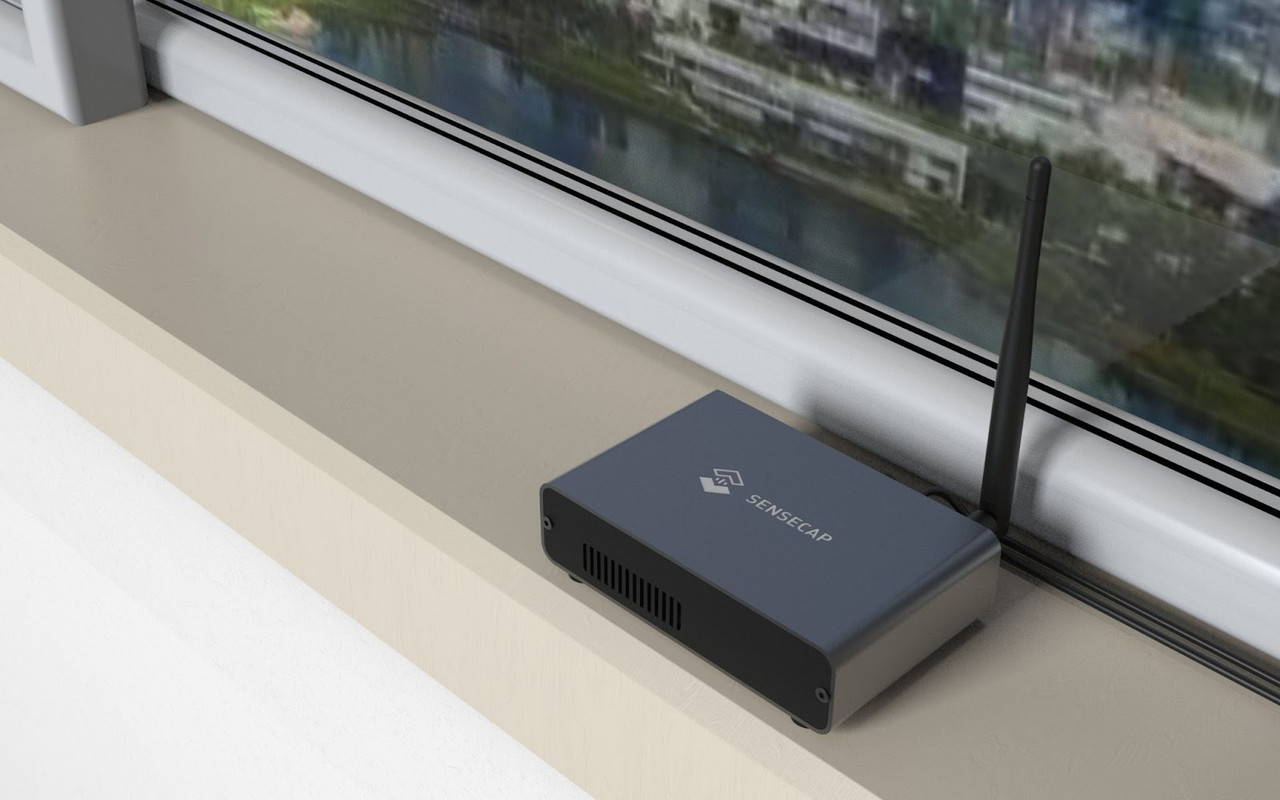 SenseCAP M1 HNT Indoor Hotspot (US915)

SenseCAP M1 is a high-performing, ready-to-use LoRaWAN indoor gateway compatible with Helium LongFi Network. SenseCAP M1 can connect to The People's Network within a few simple steps in minutes, and helps you build LoRa applications with low costs. SenseCAP M1 provides miles of wireless network coverage and data transmission capacity for LoRa/LoRaWAN devices. It helps you join and contribute to the infrastructure of The People's Network while enjoying the benefits from the Helium community.
SenseCAP Wireless Soil Moisture &
Temperature Sensor (US915)
This device incorporates a built-in LoRa transmitter based on SX1276 for long-range transmission, a 2-in-1 sensor, and a custom battery. It is specifically designed and optimized for user cases powering end devices by batteries for years.To minimize the power consumption, the device wakes up, transmits the collected soil moisture and temperature data to the gateway, and then goes back to sleep.
Under the best of circumstances, the battery is expected to last for more than 6 years, depending on environmental factors and the data transmission intervals. Please kindly note that the default interval is once per hour. If you'd like to change the data upload interval, please refer to this document
To fit in adverse conditions, this wireless sensor is designed with industry standards and equipped with an IP66 waterproof enclosure, protecting the device from UV radiation, rain, and sunlight exposure.
The SenseCAP Sensor adopts a modular design, integrating the data logger with the sensor probe, which can be replaced by other SenseCAP sensor probes.
System
Architecture
SenseCAP Sensor + Other LoRaWAN Gateway Architecture
Features
Support LoRaWAN protocol Class A

High reliability and stability

Ultra-wide-distance transmission: 10km in line of sight scene, 2 km in urban scenes

Rapid installation and deployment (see the video below
Specifications
Soil Temperature
Range: -30 to +70 °C

Accuracy: ±0.5 °C

Resolution: 0.1 °C
Soil Moisture
Range: From completely dry to fully saturated (from 0% to 100% of saturation)

Accuracy: ±2% (0 to 50 %); ±3% (50 to 100 %)

Resolution: 0.03 % (0 to 50%); 1% (50 to 100 %)
General Parameters
Microcontroller: Ultra-low-power MCU

Support Protocol: Based on LoRaWAN v1.0.2 protocol

LoRa Channel Plan: US915

LoRa Power Output: 16 dBm (EIRP)

Sensitivity: -136.5 dBm (SF12, BW125KHz)

Current Consumption: 5 μA (sleep mode) | 120 mA max (active mode)

Communication Distance: 2 to 10 km (depending on different antennas and environments)

Measuring Area: A cylinder area (with the probe as the center, diameter: 7 cm, height: 7 cm)

IP Rating: IP66

UV Resistance: anti-aging (from rain/sun exposure): UL746C F1

Enclosure Material: PC

Operating Temperature: -30 to +70 °C

Operating Humidity: 0 to 100 %RH (non-condensing)

Battery Capacity: 19 Ah (non-rechargeable)

Weight: 415 g
What's Included
1 x Sensor

1 x Bracket

4 x M4 Self-drilling Screw

2 x M3 Self-drilling Screw
---
SenseCAP M1 HNT Indoor Hotspot (US915)
Handy Setup to Helium Network. 6 steps, 5 minutes, ready to go.

Powered by Mature Hardware Solutions. Raspberry Pi 4(2G/4G/8G RAM) and WM1302/WM1303 (Semtech SX1302/SX1303) baseband LoRa chip.

Secured and Reliable. Built-in ECC608 crypto chip, high-security authentication, and reliable connectivity.

Automatic Online Upgrades. Automatic OTA upgrades, without manual operation.

Remote Diagnosis. Built-in remote diagnostics mechanism, efficient online support.

64GB Large Storage. 64GB MicroSD card large storage, extending the lifetime of the gateway, fulfilling the memory requirement of potential upgrade.

Efficient Cooling Solution. Aluminum enclosure with a heatsink and cooling fan inside, ensuring long-term and stable operation.

Multiple Accessories. Fiberglass antenna, slider pad for sliding rod installation, and upcoming outdoor enclosure, etc.

FCC and CE Certificated. Available for personal and commercial use.
Hardware Solutions
As a LoRaWAN gateway with powerful and stable performance, SenseCAP M1 is based on Raspberry Pi 4 (2G/4G/8G RAM) and embedded with a WM1302/WM1303 (Semtech SX1302/SX1303) LoRa concentrator, featuring miles of wide range of coverage and low-power consumption just as the electricity consumption of an ordinary light bulb.
Frequency Band Support
SenseCAP M1 has US915/EU868 versions with FCC/CE certificates respectively. It also supports frequency plans including EU868 / US915 / AU915 / KR920/ AS923 without further configuration. Each version has the corresponding antenna and power adapter. You could choose the frequency band version according to your placement region.
Communication Security
For the critical security issue, a built-in ECC608 crypto chip is embedded for highly secure authentication to effectively safeguard your device.
Automatic Online Updates
SenseCAP M1 provides operating system OTA and Docker-based software OTA to enable automatic online upgrades, without any activation or monitoring operation. Coming with a 64G MicroSD card, it also fulfills the memory requirement of potential upgrade.
Remote Diagnosis
A mature mechanism for remote diagnosis is built within SenseCAP M1, enabling timely online user support for possible issues of the SenseCAP M1 on your request.
Efficient Cooling Solution
SenseCAP M1 comes with a better cooling solution. It has a heatsink and a cooling fan in the aluminum enclosure, which enables it to manage temperature automatically even in harsh environments, ensuring long-term and stable operation.

Handy Setup to Helium Network
SenseCAP M1 is super convenient to use. You could easily place your SenseCAP M1 next to your windows or fixed on the wall. It is also recommended to set gateways 350-400 meters away from each other to broaden the network coverage and to achieve more gains.
As a Helium compatible gateway with built-in Bluetooth, you can easily set up the SenseCAP M1 with the Helium App on your smartphone in minutes by following 6 simple steps (see detailed instructions on the SenseCAP M1 Wiki Page). SenseCAP M1 supports both WiFi or Ethernet connection to the internet.
Specifications
Processor

Raspberry Pi 4 (Broadcom BCM2711, Quad core Cortex-A72 (ARM v8) 64-bit SoC @ 1.5GHz)

RAM

2GB / 4GB / 8GB

Storage

64GB MicroSD Card

Frequency

EU868 Version: 863MHz ~ 870MHz

US915 Version: 902MHz ~ 928MHz

Sensitivity

-125dBm @125KHz/SF7

-139dBm @125KHz/SF12

TX Power

Up to 26 dBm

Antenna Gain

US915: 2.6 dBi

EU868: 2.8 dBi

Antenna Impedance

50 Ohm

Antenna Radiation Pattern

Omni-Directional

Wi-Fi

2.4 GHz and 5.0 GHz IEEE 802.11ac wireless

Bluetooth

Bluetooth 5.0, BLE

LoRaWAN

Supports Class A, C

Input Voltage

DC 5V - 3A

Interfaces

USB Type-C (Power Supply) * 1

Ethernet RJ45 * 1

RP-SMA Female Antenna Connector* 1

Operating Temperature

0°C to 50°C

Relative Humidity

0% - 90% (non-condensing)

Heat Dissipation

Aluminum enclosure, a heatsink, and a cooling fan

IP Grade

IP20

Certification

FCC / CE