Sidebar
HIP 70: What You Need to Know - Solana Blockchain
Helium Improvement Proposal #70 has been put up for vote by the Helium Core Team to improve the operational efficiency of the Helium Blockchain. Major items included in this proposal are as follows:
Migration of Helium Network Tokens (HNT, DC, MOBILE, IOT) and governance onto the Solana blockchain.
Moving Proof of Coverage (PoC) to Oracles for predictability and scalability
Moving Data Transfer Accounting to Oracles to scale data delivery.
Approximately 7% of HNT emissions will return to the hotspot owners as the need for Validators are removed
The first entry of this multi-part informational blog post will start with a subject that has led to a lot of questions within the community:

Migration to the Solana Blockchain
Before we get started, it is important to understand the difference between the Helium Blockchain and the Helium Network.
The Helium Blockchain is a custom blockchain built using a novel algorithm called Proof of Coverage (PoC) that incentivizes the creation of decentralized wireless networks using its native token, HNT. PoC verifies network coverage and devices deployed by a collective of thousands of developers, hotspot owners and companies forming the Helium Network. The Helium Network decentralizes existing wireless protocols such as LoRaWAN and CBRS 5G (with WiFI and dVPN possibly on the horizon). While Blockchain and Network are typically discussed hand-in-hand, they are not one and the same. The Helium Network will continue to exist as a growing decentralized wireless network even after the potential blockchain migration.
Why is Change Necessary?
The use of a custom blockchain served its purpose as the network grew to a few thousand hotspots, but the explosive growth of the network caused a bottleneck in the functionality of the blockchain itself. The Helium Blockchain was built using the Erlang programming language, which has specific parameters it can operate within and has a relatively small developer community. This means maintaining and updating the blockchain at a rapid pace for an ever-growing network is extremely resource dependent with a condensed resource pool.
Due to these constraints, the Helium Developers researched transitioning to a general purpose blockchain that would allow the use of smart contracts; a feature that is not native to the Helium blockchain and difficult to build. Smart contracts are digital contracts that are trustless, autonomous, decentralized, and transparent. Simply put, they're irreversible and unmodifiable agreements without intermediaries or enforcement required. Smart contracts in the Helium blockchain would enable additional functionality and features built to spur the growth of the Helium Network.
General purpose blockchains were not a viable option in the early development of the Helium blockchain as there were not nearly as many options as there are today and those that did exist, such as Ethereum, but the cost of Helium's network activity would prove to be too expensive to be transacted on the Ethereum blockchain. Over time, new general purpose blockchains came onto the scene, leading the Helium Developers to take a serious look at migration. They saw an opportunity to spend less time maintaining a custom blockchain and more time focusing on growing the Helium Network. They weighed the pros and cons of each protocol and chose Solana as the option to propose to the community.

Why Solana?
Solana is a blockchain known for speed and affordability of transactions. It is built using Rust programming language, which has a much larger developer community compared to the aforementioned Erlang. This opens up the resource pool, creating more availability for building and developing applications for the Helium Network. Solana Proof-of-History consensus algorithm is a Layer 1 blockchain focused on scalability and makes the time to confirm transactions on-chain blazing fast providing cheap transactions without compromising security. For Helium, this means PoC and any transactions initiated will be receiving a much needed upgrade.
Solana will allow the Helium Network to achieve higher uptimes, greater composability and a faster user experience. It will also bring along with it a growing developer community along with tooling features at their disposal.
HNT, Mobile, IoT would become a SPL standard token similar to Etherum's ERC20 making it compatible right away with wallets and exchanges that support SPL standard like Phantom or Hardware wallets like Ledger. Until now, the Helium Core Team has been responsible for all wallet development related to the Helium Blockchain. Expanding this to dmoifferent wallets with different offerings broadens Helium's (and its associated tokens') reach. This also means these tokens composability in Solana DEXs (Decentralized Exchanges) and a large DeFi ecosystem opens up more utility for all the tokens in the long term.
Also of note, Solana Mobile Stack (and the incoming Solana Saga) can bring a closer connection to the Helium ecosystem, allowing development of truly decentralized mobile apps, one that could leverage the increasing growth of Helium in the 5G CBRS space.

What Do We Think?
We at Parley Labs believe that it is necessary to migrate blockchains in order to scale the network. Sometimes big pivots and hard decisions are necessary to meet audacious goals. We believe this migration will enable a scalable, stable and sustainable IoT and Mobile network, which we are excited to continue to build on. We look at blockchains like Ethereum as inspiration; the second largest blockchain ecosystem successfully merged and transitioned the whole blockchain from Proof of Work to Proof of Stake. Regardless of the chain determined, we fully support the move. We have seen projects successfully navigate these transitions, such as Render Network by Otoy.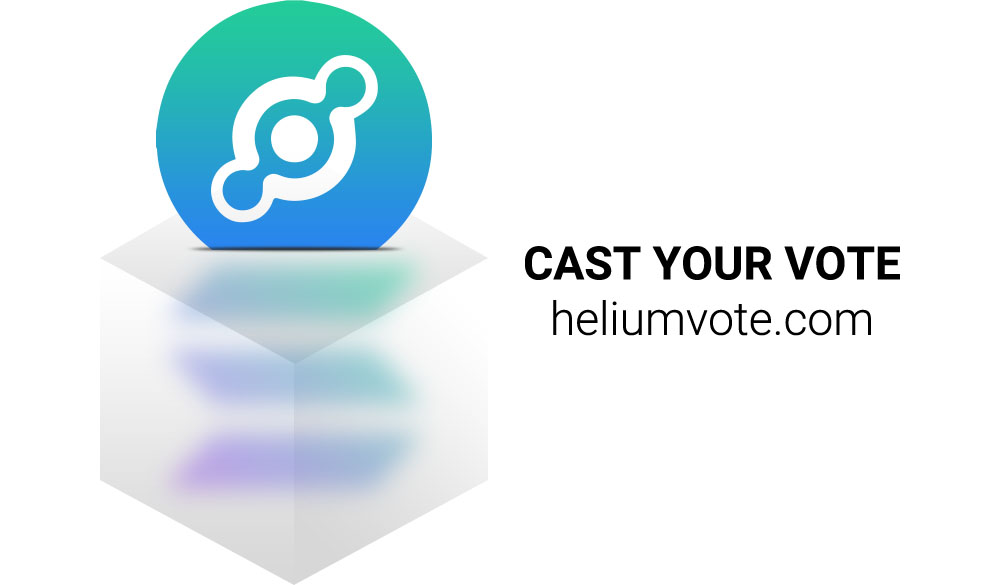 What Do I Do Now?
Being firm believers in the governing Helium community, Parley Labs suggests you take in all considerations and vote. We believe in the power of these decentralized networks and the blockchain that will support the network for years to come.
Want to help build the decentralized network of the future in IoT & 5G space. Learn more here.