Sidebar
Genesis Phase 3: The Need For Speed
As Genesis continues to reward individual 5G deployments, an upcoming change could effect the amount of MOBILE tokens you earn per epoch. Genesis Phase 3 was postponed and is now targeted to be implemented the week of October 24, 2022. This will enforce requirements of internet speeds greater than 100 Mbps download and 10 Mbps upload with less than 50 ms latency.
How Does This Work?
For now, rewards will still be weighted depending on radio type, but with an added calculation depending on your internet speed. For those radios meeting the above requirements of 100 Mbps down / 10 Mbps up, will be considered acceptable and rewards will still be earned at their full weighted value. For those below those speeds, there will be a tiered reward system: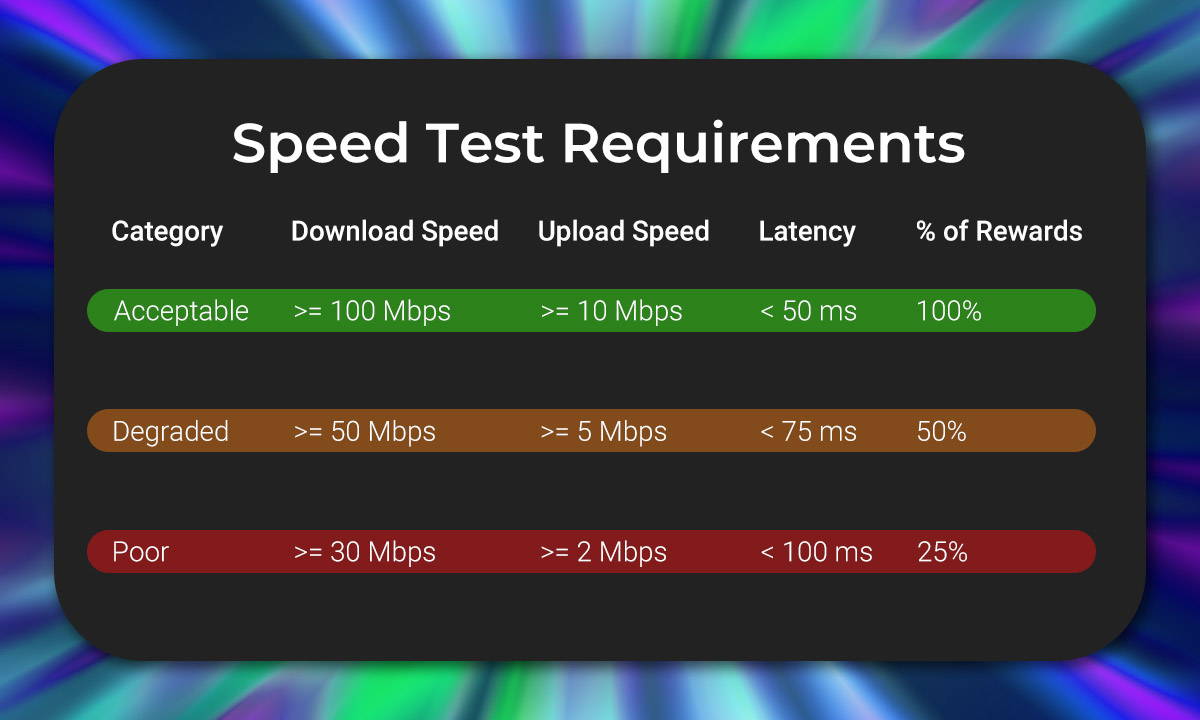 The speed measurement will be based on a moving average*. This is defined as the most recent 6 consecutive speeds tests with a minimum of 2 consecutive speed tests returning data. Hotspots with a moving average of under 30 Mbps down, 2 Mbps up, or greater than 100 ms latency will not be rewarded, even if it has returned a heartbeat.
Of note, The Minimum Download speed and Upload speed requirements will increase over time. This is to give Hotspot hosts time to improve their setup and internet connections and to ensure that 5G Hotspots are providing high-quality coverage.
How About an Example?
If your radio is currently being rewarded 25,000 MOBILE daily, but your internet speeds fall in the "degraded" category, you will only receive 12,500 MOBILE.
How Do I See My Speeds?
You can locate your most recent speed test information on the 5G Statistics page of your hotspot on Helium Explorer.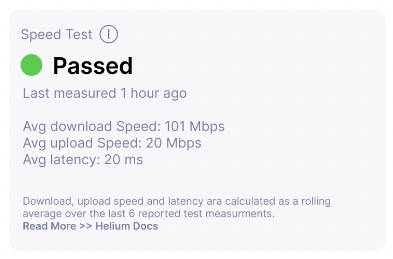 Moving averages are expected to be displayed soon.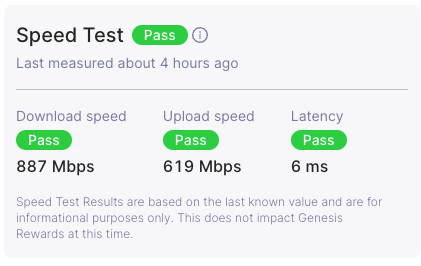 How Do I Increase My Speed?
Reviews of current speed test data discovered many setups are falling just short of the 100 Mbps. The hypothesis is that setups are using non-gigabit network switches in their setup. It is highly recommended to utilize a gigabit switch for all 5G setups. If that still doesn't do the trick, we recommend contacting your Internet Service Provider to upgrade your speeds.
Still not participating in the Helium Mobile movement? Purchase your Helium 5G equipment here!
This bundle is ideal small indoor/outdoor spaces like restaurants with a patio. This bundle features a:
1 x Baicells NOVA 430H - Pre-provisioned with FreedomFi Firmware

1 x FreedomFi Gateway

1 x Year FreedomFi Support and SAS fees

1 x Parley Labs 3 dBi LoRaWAN Antenna

1 x Parley Labs Low Loss 200 15ft N-Female to RP-SMA Male Cable